Paul Fenn Bio.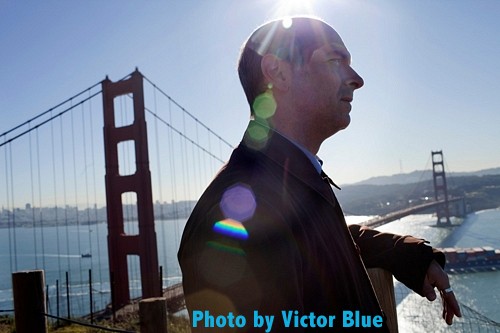 Paul Fenn authored California's 2002 Community Choice (CCA) law, Assembly Bill 117, allowing municipalities to choose alternative electricity providers for their communities, and has played a leading role in their implementation. Sponsored by former state Assemblywoman Carole Migden (D-San Francisco), the Community Choice law has resulted in initiation of CCA service in Marin County in 2010 . Fenn co-authored the original "Community Choice" law, Senate 447, in 1994, while serving as Director of the Massachusetts Senate Committee on Energy under the chairmanship of Senator Mark Montigny (D-New Bedford), who sponsored the legislation. Fenn helped Ohio and New Jersey in the drafting of their (1999, 2003) Community Choice laws, and has advised state, federal, and British policy and educational bodies on the opportunity to implement major decentralization projects to address the global Climate Crisis.

Fenn also wrote San Francisco's 2001 "solar bond" or H Bond authority Proposition H - the nation's first municipal solar bond authority. Sponsored by San Francisco Supervisor Tom Ammiano, Prop H was placed on San Francisco's 2001 ballot; Fenn and wife/partner Julia Peters ran the citywide Campaign for Solar Neighborhoods, and received voter approval as a City Charter amendment, creating a permanent and unlimited revenue bond authority to finance renewables and energy conservation. H Bonds are a critical component of Local Power's business model, and form a major component of both the City's CCA program and the Marin Clean Energy program, in order to fund development of renewables and efficiency, offer customers financing to own solar and other technologies, and pay back bonds on installed systems exclusively based on ratepayer revenues. Several innovative municipal bonding authorities have followed the H Bonds since 2001, including AB811 bond programs in Sonoma County, Berkeley and Palm Desert, which have been copied nationwide. Local Power has also helped utilities like Sacramento Municipal Utility District design "Community Solar" programs that finance offsite solar photovoltaic arrays and offer financing and share ownership to customers.

Fenn has recently appeared in a The Wall Street Journal and the New York Times, and was featured in a Fast Company story by Pulitzer-nominee Anya Kamenetz. Most recently, Fenn was featured in a Truthout article on the political showdown around Local Power's pathbreaking "In-City Buildout" program design for San Francisco. Fenn was featured in his Alma mater's magazine, and had interesting cover stories in local newspapers like the Marin Independent Journal, the Pacifc Sun and the San Francisco Weekly, as well as energy industry journals like Renewable Energy World and CleanTech.Com. Fenn has written numerous articles in industry journals like Natural Gas & Electricity.
Implementation of CCA and H Bonds
Shifting to implementation of his aggregation and financing authorities to prove the concept of Local Power, Fenn wrote San Francisco's May 11 2004 Energy Independence Ordinance, which combines California's Community Choice law with San Francisco's H Bond Authority to create a revolutionary new financing mechanism for renewable energy and demand-side technologies, enabling an unprecedented investment in green power without a rate increase or major public risk, taxes or spending.
In 2004-5 Fenn played a major role helping the California Public Utilities Commission write regulations for the Community Choice law. During this time he was also primary author of San Francisco's CCA Program Design, Draft Implementation Plan and H Bond Action Plan adopted in 2007 (Ordinance 447-07, Mirkarimi/Ammiano/Daly, 2007). Fenn's company, San Francisco-based Local Power Inc., was subsequently retained by City departments through a competitive bidding processes in 2008 and served as a principal consultant to the San Francisco Local Agency Formation Commission and also the San Francisco Public Utilities Commission, preparing a CCA Program Report and CCA Lessons Learned Report as preparation for helping draft the City and County of San Francisco's CleanPowerSF CCA Request for Proposals, issued in 2009 and following the defeat of a proposition to block CCA in California by incumbent Pacific Gas & Electric (PG&E, PGECorp).
Focusing Local Power's work more and more on actual implementation of green public works that Local Power calls "Climate Works," Mr. Fenn's LLC, Local Power Works, submitted a proposal to the Marin Energy Authority's Marin Clean Energy CCA Request for Proposals in 2009. Local Power's bid proposed to physically implement a 76% relocalization of the entire Marin community's power supply over a three- to five-year period. His bid group, including infrastructure, power contracting and rate design experts, raised funding to prepare the bid then designed a 76% local renewable portfolio infrastructure. "Local Power's portfolio was not just a model," says Fenn: "We negotiated with a dozen partners to get the new capacity online year to year while providing power at rates that meet-or-beat the rates being charged by PG&E. That is the Local Power formula whereover we work: we are looking for the mayor or empowered local official who wants a 50% plus physical conversions of the community's power supply - and Local Power intends to deliver this conversion without any increase in power rates." Local Power emphasizes this "utility bypass" approach to green power. "The idea is major physical energy change for any region, without social pain, in a five year period - that is what we offer local governments."
Defeating Political Attack
In 2010, Proposition 16 nearly blocked Fenn's efforts in California. In June, voters rejected a ballot constitutional amendment drafted and funded by PG&E that would have imposed a 2/3 voter approval requirement on every California city before it could undertake any actions to investigate, pursue or implement CCA - such as Marin Energy Authority, CleanPowerSF, or an exploratory project by Sonoma County funded by the California Energy Commission, "Sonoma Renewable Energy Secure Communities." Fenn's Local Power Inc. formed the official opposition PAC to Prop 16 (noprop16.org), which was joined by city governments and municipal utilities throughout California, consumer groups like The Utility Reform Network (TURN), which assumed a leadership role in the Campaign, and former California Energy Commissioner John Geesman, both of whom also ran the campaign with Fenn, as well as the Sierra Club and many other public advocacy groups. Fenn then helped Bay Area CCA leaders form a parallel grassroots field campaign , which focused on organizing voters in the Bay Area. Though PG&E spent over $50 Million in advertising Prop 16, and the No campaign raised only $130,000, PG&E was defeated by the same number of votes - 130,000 votes - in June, 2010. San Francisco political organizer Bruce Wolfe, who managed the Northern California Field campaign, credited Fenn with "the crown" for the successful defeat of PG&E's initiative at the Official No on 16 Campaign's subsequent victory party in July. Fenn's powergrab.info website, created to jump start the "No on 16" campaign and focus the media message on PG&E's at tack on CCA, continues to aggregate daily California and world energy news - focused on energy localization in a hostile global energy industry, and emphasizing PG&E's efforts to block the CCA movement in Northern California.
Accomplishments and Current Projects
Fenn emphasizes that his company's "revolutionary" approach to energy "is Not a Theory" (the name of Fenn's new book) since not one- but two successes, one serving a million people in Northeast Ohio, the other serving Marin County residents and businesses, have already proven that the CCA approach delivers greener power cheaper than utilities or deregulated power marketers can deliver. A CCA called the Cape Light Compact has provided power to all of Cape Cod, Nantucket and Martha's Vineyard for over ten years. Today, Marin Clean Energy is already providing power to local residents and businesses that is 25% renewable - twice as renewable as PG&E's 14% renewable power - at the same rates. The Marin Energy Authority officials announced that their power is also 78% greenhouse gas-free - without resorting to nuclear power. Including its major nuclear plants, PG&E claims its power to be 50% greenhouse gas-free. But the first big proof came from an unlikely source in Ohio - an aggregation of over a million people in rural counties surrounding Cleveland, the Northeast Ohio Public Energy Council (NOPEC), fomed under Fenn's CCA law there. After NOPEC first proved a mix of natural gas and a small amount of renewable energy energy could be cheaper than a coal and nuclear mix over the past ten years, Marin Clean Energy, providing power service to Marin customers since May 7, 2010, is proving that a much higher renewable and much lower carbon, nuclear free power portfolio can indeed cost less, not more, than PG&Es gas-fired and nuclear power mix. To eschew modesty, Local Power Inc. claims this to be a major proof of the fallacy of market fundamentalism in an industry that has always denied the economic possibility of green local power being cheaper than imported dirty power. Today, Mr. Fenn is focused on working with mayors, city councilmembers and other empowered, determined local and regional government leaders to "actually implement" the solution to global climate change, locally.
Mr. Fenn's work has two sides - the very political and big-picture on one side, the very technical and specific on the other. Fenn worked for more than ten years as a consultant to Lucent Technologies, Western Wireless, Motorola, Voicestream, and others in the tender preparation, design and construction of national and regional wireless telecommunications networks in America and Europe. His current technical work includes a major California Energy Commission showcase project, Renewable Energy Secure Communities. Working with the Sonoma Water Agency, Local Power Inc. used its software to further refine a Climate Action Plan Energy Element prepared for the Climate Action Campaign in 2009. Califonia Energy Commission funded Local Power to combine its company-owned Climate Rollout Scheduling software to model a 67% renewable localization of the Sonoma community's regional power supply over a five year period - and provide power at the same price as PG&E. Having won the right for Community Choice Aggregators to receive PG&E's meter data, Sonoma County retained Local Power to retain and analyze the PG&E meter data to refine its Climate Action Plan Energy Element rollout schedule and provide that model to Los Alamos Labs for its CLERE carbon simulation sofware, which includes national transmission system data. To analyze the 250,000 meter, three year sample of monthly and time of use meters, Local Power Inc. has brought onboard a stellar database and mapping group to work on the project, including WAIS co-inventor Art Medlar, carbon expert David Erickson and long-time LPI Research Director Robert Freehling, who managed another CEC-funded RESCO project with San Luis Obispo county. In 2013, the City of San Francisco retained Local Power under an engineering services contract to design an ambitious $1B "In-City Buildout" of distributed generation and energy efficiency throughout the city. To contact LPI to offer us work or discuss common ventures, please contact Paul Fenn directly at (510) 451-1727 x2.
Politics and Writings
On the political side, apart from organizing the official opposition campaign to Pacific Gas & Electric's (PG&E's) Proposition 16, a proposed state constitutional amendment placed on California's June 8 2010 ballot with sole funding by PG&E, Fenn and his wife Julia Peters organized the H Bond campaign in San Francisco, and before that helped organize the only coalition opposed to California's 1996 electric industry deregulation bill in 1996, and has been involved "opportunistically" in politics since 1992 when he helped coordinate Ralph Nader's 1992 Presidential run for in the New Hampshire Primary. Fenn wrote Jerry Brown's published policy platform for mayor and produced a campaign newspaper for the former Governor's first 1998 Oakland mayoral bid, whose campaign manager was Julia Peters. Fenn also helped draft the City of Oakland's "Strong Mayor" charter amendment, Measure X, in 1998. Fenn is Co-Chair of Sierra Club California's Energy and Climate Committee, has taught several industry seminars such as Law Seminars International, and published a book of essays in 2010, This is Not a Theory. Fenn publishes his writing on several web sites and blogs including his blog, a literary web site called The Local Organon, and has recently had several essays and articles published in print publications in Spain, Mexico and Colombia. In 2014, Fenn completed two chapters to be published two separate upcoming books with Eduardo Subirats and Christopher Britt, The Obscene Absence of the Intellectual and Enlightenment in an Age of Destruction.
Fenn has published a non-fiction literary zine with a group of friends since 1993. An intellectual historian by training, Fenn continues to write about the energy industry, climate change, and political and economic theory "as a form of participatory history - an effort to write history through a participatory voice rather than a neutral observer, while engaging politics through an historical voice, and transforming economics through an unencumbered re-design of the supply-side energy system into a demand-side capacity network" - what writer Elly Hopper called "reinterpreting the grid".
Bio and Contacts
Born in Oakland, California, Paul Fenn holds a 1992 Master's Degree from University of Chicago, where he was awarded a PhD fellowship in Intellectual History. Before that, Fenn was Dean's Fellow at Manhattan's New School for Social Research in 1989-90 in the Philosophy PhD program, and received a Bachelors Degree from Bates College in 1988 with Highest Honors and Muller Prize for best senior thesis. Mr. Fenn is married to Julia Peters and has two sons in the Bay Area.
Paul Fenn
P.O. Box 261
Comptche, California 95427
(510) 451 1727x2